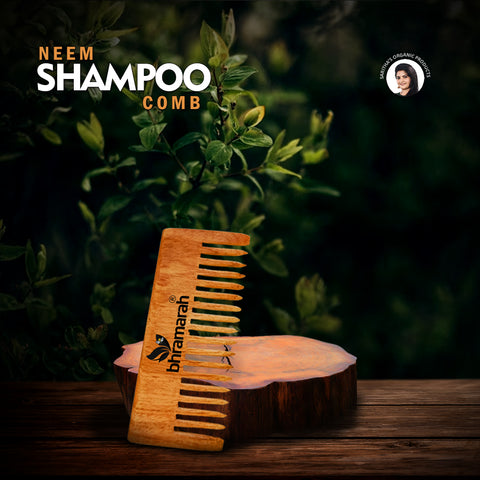 Bhramarah
NEEM WOOD SHAMPOO COMB
Rs. 149.00
Rs. 199.00
you save Rs. 50.00
Bhramarah Neem wood comb is a highly beneficial hair accessory. Neem is a natural antiseptic. It prevents the growth of microbes. Made up of 100% Herbal Indian neem wood and suitable for all age groups. Bhramarah  Neem Wood comb is a natural, non-invasive, and herbal way of keeping your hair healthy. Bhramarah  Neem Wood combs are handcrafted and eco-friendly. Our comb comes with the advantage of both wide and fine teeth in the same comb. Unlike regular combs that are sharp and rough on your scalp, neem wood comb is gentle on your scalp. Since wood is a bad conductor, it doesn't create static electricity like plastic and metal combs which causes frizz and damage.
What to expect?
Bhramarah Neem Wood combs stimulate blood vessels and enhance blood circulation in the scalp thereby promoting hair growth. Bhramarah Neem wood comb helps in distributing oil naturally produced by the scalp to the lengths of hair evenly and prevents the ends from drying out. The natural wooden fibers work great to condition your hair. Wide-tooth wooden combs don't tend to pull or break the hair. Massaging the scalp with a wooden comb also helps in relaxing the mind.
How to Use?
After Shampooing instead of hand massage you can Comb with our Bhramarah Neem Wood Shampoo Comb to remove dirt and extra oil from scalp.
OUR PROMISE
Made the right way
All our products are 100% Natural.

The aroma of the products are from the natural ingredients added. We do not add any artificial fragrances.

The color of our products is from the natural ingredients, so it may slightly change over time – although the product efficacy remains unchanged. 

Our products are free from any sulphates, parabens and other chemicals.

Proudly Made in India.