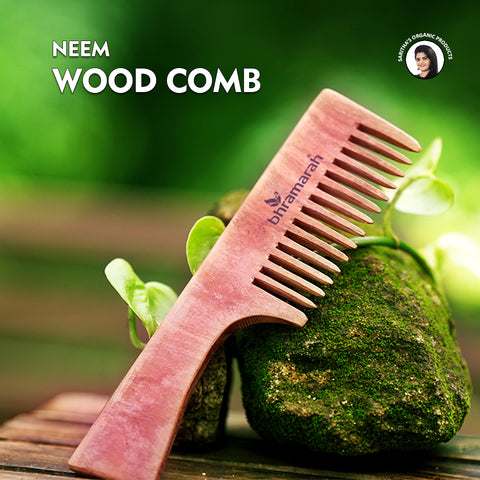 Bhramarah
NEEM WOOD COMB WITH HANDLE (WIDE TOOTH)
Rs. 149.00
Rs. 199.00
you save Rs. 50.00
Bhramarah  Comb is made up of 100% Herbal Indian  wood and suitable for all age groups. Wood Comb is a natural, non-invasive, and herbal way of keeping your hair healthy.
 Wood combs are handcrafted and eco-friendly.
Using a wood comb regularly helps in detangling, keeps your hair healthy, soft, and frizz-free and also helps to prevent dandruff.
Unlike regular combs which are sharp and rough on your hair,  wood comb is gentle on it. Since wood is a bad conductor, it doesn't create static electricity like plastic and metal combs which causes frizz and damage.
Wood combs stimulate blood vessels and enhance blood circulation on your  scalp thereby promoting hair growth.