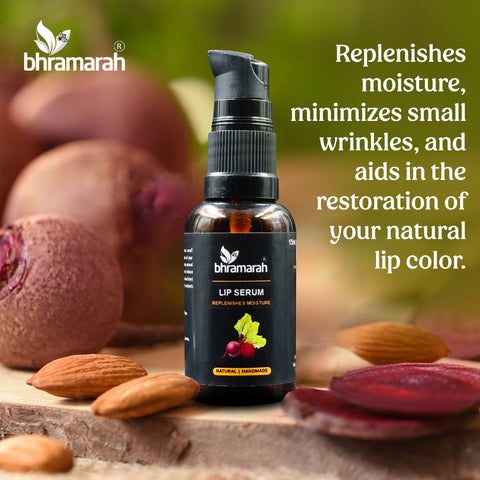 Bhramarah
LIP SERUM - 15 ML
Rs. 299.00
Rs. 499.00
you save Rs. 200.00
Replenishes moisture, minimizes small wrinkles, and aids in the restoration of your natural lip color. Pure Indian Rose has natural oils that help seal in moisture and reduce discoloration because to its antioxidant characteristics. Lips get a lot of nutrients throughout night.
How to Use?
Apply evenly to the lips before bedtime every night.
OUR PROMISE
Made the right way
All our products are 100% Natural.

The aroma of the products are from the natural ingredients added. We do not add any artificial fragrances.

The color of our products is from the natural ingredients, so it may slightly change over time – although the product efficacy remains unchanged. 

Our products are free from any sulphates, parabens and other chemicals.

Proudly Made in India.
Ingredients
Beetroot, Rose petals, Almond Oil, Lemon, Pepper mint.