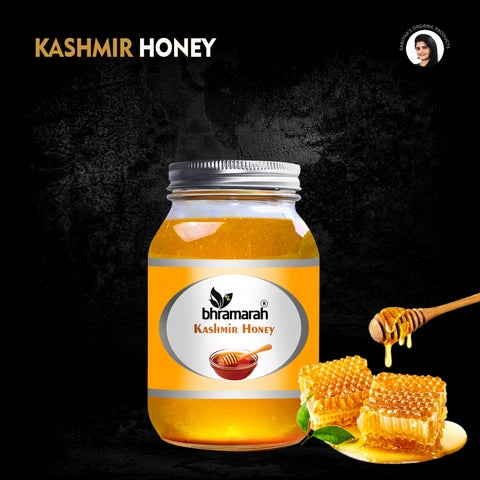 Bhramarah
KASHMIR HONEY - (200 ML)
Rs. 250.00
Rs. 380.00
you save Rs. 130.00
Description
From the tranquil towns of foliage and flowers, lush green valleys, Kashmir is a beautiful spot for medicinal herbs and flora. These lands away from pollution and harmful sprays. Nectar collected from these flowers is converted into honey.
Naturally sourced by the local community of bee-keepers who protect these precious lands and take care of the bees as well, are our partners in bringing you the rich raw flavour of pure Kashmir honey. The unprocessed, unpasteurized and unadulterated honey has rich content of amino acids, enzymes, bee pollen, probiotics, and antioxidants. This complex mix makes honey a boon apart from its soul-quenching sweetness. It is a natural immunity booster and helps sharpen the mind and memory.
Regular intake of Kashmir honey is especially recommended for people who take up a lot of mental loads every day. It is also helpful for kids who must study long hours. Honey is an energy booster and gives instant charge to your mind and body.
Benefits

Kashmir honey heals wounds and burns, cures depression, helps lower risk of heart disease, enhance immune system, helps in fighting infection, helps in managing weight, helps to nourish and moisturize the skin.
OUR PROMISE
Made the right way
All our products are 100% Natural.
The aroma of the products are from the natural ingredients added. We do not add any artificial fragrances.
The color of our products is from the natural ingredients, so it may slightly change over time – although the product efficacy remains unchanged. 
Our products are free from any sulphates, parabens and other chemicals.
Proudly Made in India.