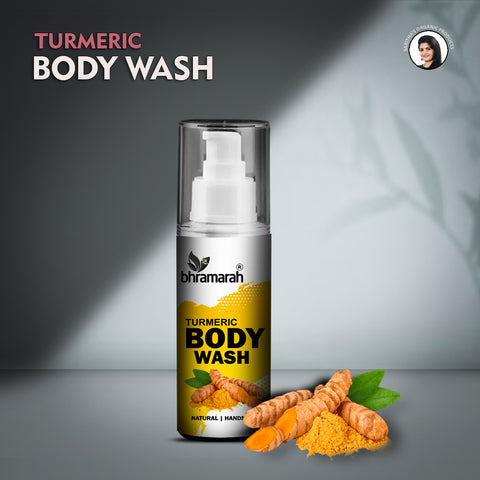 Bhramarah
TURMERIC BODY WASH
Rs. 350.00
Rs. 700.00
you save Rs. 350.00
Description
This age-old remedy for beautiful skin, Turmeric Body wash gives a perfect refreshed skin for the start of your day.
This blend of Pure Turmeric extracts with glycerine and other natural ingredients, removes the skin impurities and keeps the skin moisturized.
Our products are all sulphates and paraben free, hence completely safe to be used on all skin types.
This pure body wash is a perfect alternative for people allergic to chemical laden soaps and bars. 
Why does it work?
This natural body wash made with pure turmeric extract helps to reduce dark pigmentation and gives a smooth texture and glow to your skin.

What to expect?
Reduce the appearance of wrinkles.
Exfoliates and helps to eliminate excess oil from the body.
Brightens the skin and gives a smooth texture and glow.
Made with  Natural organic products with no added chemicals, sulphates, or parabens.
How to use it?
Wet your whole body with enough water.
Pour a little quantity of body wash on a loofah and gently rub it on your body, working into a lather.
Wash away with clean water thoroughly.

 
PATCH TEST is advisable before adding a new product to your routine. Apply the effect on your inner elbow/jawline and observe for the next 24 hours. If there's no reaction, you can apply the product. If you have sensitive skin, continue the test for seven days. This helps ensure you are not allergic to any ingredient. If irritation occurs, please discontinue the product and consult a dermatologist.
OUR PROMISE
Made the right way
All our products are 100% Natural.
The aroma of the products are from the natural ingredients added. We do not add any artificial fragrances.
The color of our products is from the natural ingredients, so it may slightly change over time – although the product efficacy remains unchanged. 
Our products are free from any sulphates, parabens and other chemicals.
Proudly Made in India.
Ingredients
Aqua, Turmeric, Organic AloeVera, Licorice, Orange Essential Oil, Vitamil E.